NBHAA Historical Articles
---
THE 1960 BOWDEN SPACELANDER!
By Leon Dixon
Copyright (c) 1985, 1999, 2005, 2007, 2013 by NBHAA and Leon Dixon, All rights reserved.
Bowden Spacelander bicycles were some of your curator's favorites. These beauties were only made for a short time in 1960 and we were the first to write about them, publicize them to collectors and gather the first and accurate histories on these rare bicycles. Thus, we figure that some of you out there might enjoy the following...
AUTHOR'S NOTE REGARDING COPYRIGHTS:
copyright (c) 1985, 1999, 2005, 2007, 2011, 2013 Leon Dixon, all rights reserved
We are watching, so you watch your credit line! If you are quoting from us- SAY so! Don't make it appear as if the information source was anonymous or you. This article originally was written for the now-defunct CYCLIST magazine and appeared in the April, 1985 issue of that publication. THAT was nearly 30 years ago! It was intended to be a personal, historical, and nostalgic account of the Bowden Spacelander bicycle.
Today EVERYBODY'S an expert. There are a jillion stories about Bowdens on the internet in DIY forums and guess sessions and magazines and newsletters. Everybody knows it all. They'll repeat the same info we gave you nearly thirty years ago, but ALL of these came AFTER we introduced the Spacelander to collectors. Aside from a previous article in CLASSIC BICYCLE & WHIZZER NEWS (also written by Dixon), this was the first and only factual treatise on Bowden Spacelander history and the ONLY photos of a correct, original example published up until that time.
And while many sources have subsequently adopted and parroted back the number of "522 produced" to collectors, that number first appeared in CBWN newsletter and this Cyclist magazine article. WE DID IT FIRST. The number came from us and no place else. The reason was that even the inventor did not remember how many of these bicycles were made and WE counted it up from the original factory shipment records that came from an officer of the company back in the 1970s, long before anyone else cared! So no one can claim they did it first. And YES- we STILL have the original shipping list of bicycles that were sent out from the factory, including who they went to, colors, etc.
Also, Bowden's middle initial was erroneously listed in the article captions as J by the magazine editor, not the author.
Today, there are so many fakes, "reproductions" and clones of these bicycles around, the claim that they are rare has become rather preposterous. There are easily more "Bowdens" around today than were ever made originally. How do you tell a modern clone? Easiest giveaway is the slick, shiny paint job and a gosh-awful 2-TONE SADDLE. Originals had neither. In fact, originals went out of their way to show off the fibers in the fiberglass whereas TODAY's people think fiberglass ought to look like a Corvette with everything polished like glass- or better yet- swimming under oceans of clearcoat finish! Not. What's another thing to look for? A missing rear carrier. Originals had them. And there is no steel frame "under the fiberglass"contrary to what people think today.
All photos in the Cyclist magazine Concours 'd Elegance series for articles that were written by Leon Dixon were taken by our good friend and noted photographer, Steve Essig (there were subsequent brand-X articles that followed and used our Concours title, but these were neither written by us nor did we supply info for them). Although photo copyrights originally were listed in the magazine as Steve's they in fact are assigned to Leon Dixon as per agreement with Steve Essig. No part of this article or the original article may be sold, reproduced by any means or excerpted without written permission of the author.
AUTHOR'S NOTE REGARDING THE BOWDEN SPACELANDER IN THE ACCOMPANYING PHOTOS.
These are the original photos and words used in the 1985 article. This particular Bowden Spacelander belongs to the NBHAA Collection. It was sold to us by Beverly Hills actor, Lee Nichol (starred in the movie Perfect with John Travolta and Jamie Lee Curtis). It was Lee Nicholl who originally bought this red Bowden and a black Spacelander from Ben Bowden. It is New Old Stock (NOS) nearly mint original. This Spacelander is pictured with original tires, grips and saddle and there are absolutely no restored or reproduction parts on this bicycle. As you can see, the saddle is all white- as they all were originally and as they should be now. Yes, the catalogues showed a 2-tone saddle, but that was an error made from a photograph of a prototype with a Schwinn saddle from a bicycle shop temporarily installed! This is one of the biggest (and many) fallacies about this poor bicycle. All chrome is original. Absolutely nothing has been changed on this bicycle with the exception of an odd pinstripe that was installed by the factory to test the appearance. The original Fiberglas has not been altered nor touched up in any way. Please NOTE: while the Cyclist magazine editor decided on his own to enter a caption calling the aluminum Bowden Classic prototype a "Spacelander prototype" this is not true. The Classic was made of pressed aluminum and hae many totally different features from the Spacelander which was made of fiberglass and did NOT have the features of the Classic. Ask us how we know. More on this in our upcoming book on classic bicycles.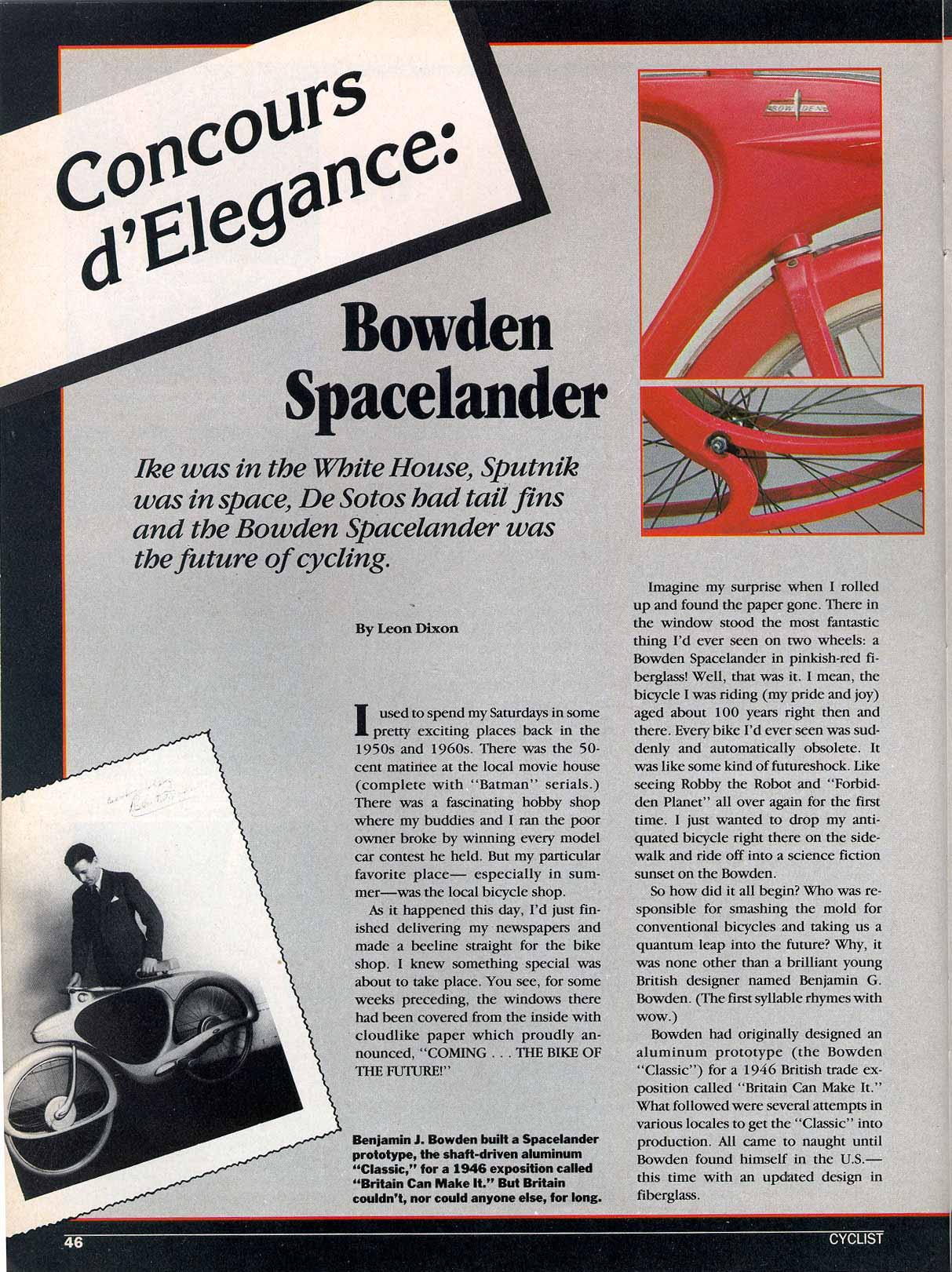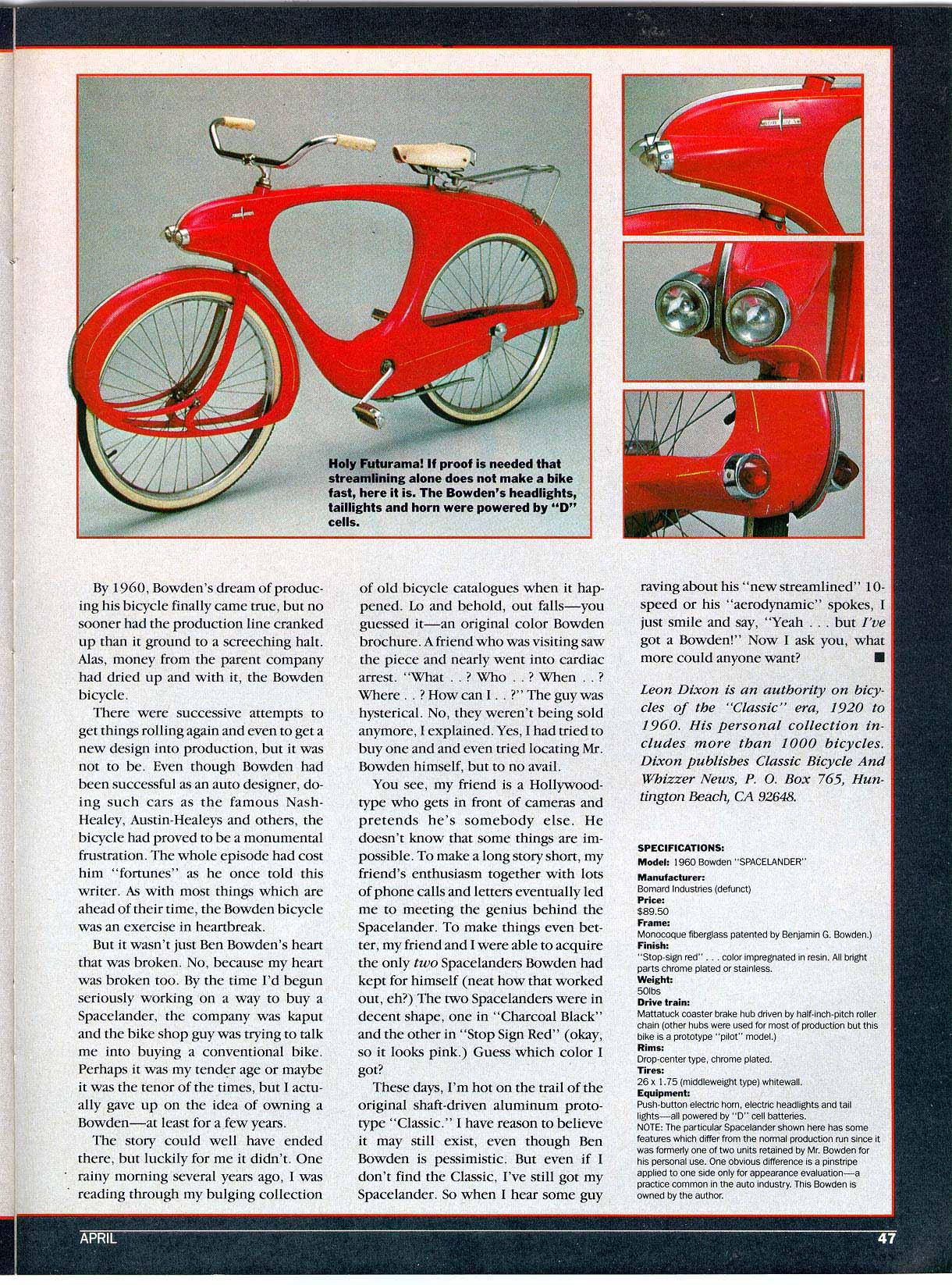 Leon Dixon is an authority on bicycles of the "Classic" era, 1920 to 1950... a classification which he coined, defined and copyrighted the definition (one example of which was published in November, 1979 Bicycle Dealer Showcase magazine ). He was the first to actively collect and restore these bicycles and first to write about them. His personal collection includes more than 1000 bicycles. Dixon is curator of National Bicycle History Archive of America, Box 862 Gig Harbor, WA 98335
QUESTIONS FOR

 

BODACEOUS BOWDEN BOOMERS OUT THERE...
1.)WHEN WAS THE FIRST BOWDEN MODEL MADE AND WHAT WAS IT CALLED?
2.) WHAT COASTER BRAKE HUBS WERE USED ON THIS BICYCLE AND WHEN WERE THEY USED?
3.) HOW MANY DIFFERENT REPRODUCTIONS OF THIS MODEL HAVE BEEN MADE OVER THE YEARS?
4.) WHAT OTHER BOWDEN BICYCLES WERE MADE AND WHEN??
5.) WHEN DID BOWDENS EVER HAVE 2-TONE SADDLES?? (the answer is NEVER–unless they are reproductions and YES the literature images are WRONG!) 6.) WHERE CAN YOU FIND MORE CORRECT AND ORIGINAL BOWDEN INFORMATION
 

THAN ANYWHERE ELSE ON EARTH??



Thank you for visiting the NBHAA Historical Articles!

 

This section will change as time goes on, but will continuously feature rare glimpses at bicycle history, memorabilia and facts you won't find anywhere else. We will eventually be posting the entire series of CYCLIST magazine articles that were written by your curator in the 1980s. We hope you enjoy the photos and information. And stay tuned !
---

This page, all design and contents, all photos unless otherwise noted are Copyright (c) 1985. 1999, 2005, 2007, 2011, 2013 by Leon Dixon/NBHAA. All rights reserved.
Date of last update to this page: 20 MARCH 2013
MORE NBHAA Historical Articles
GO TO GUIDE TO CORRECTING THE CLASSICS (GTCC)

---