NBHAA Historical Articles
---
THE 1948 SHELBY MODEL 42!
By Leon Dixon
Copyright © 1986,1999, 2006, 2008, 2011, 2013 by NBHAA and L. Dixon, All rights reserved.
Shelby bicycles were some of your curator's most favorite bicycles. These beauties came in numerous design and were made over a long period of years. One of the first deluxe postwar models was the incredible Model 42 series. Thus, we figure that some of you out there might enjoy the following...
AUTHOR'S NOTE REGARDING COPYRIGHTS:
copyright © 1986, 1998, 2006, 2008, 2011, 2013 Leon Dixon, all rights reserved
We are watching, so you watch your credit line! This article originally was written for the now-defunct CYCLIST magazine and appeared in the February, 1986 issue of that publication. It was intended to be a personal, historical, and nostalgic account of the Shelby Model 42 bicycle. Aside from a previous article in CLASSIC BICYCLE & WHIZZER NEWS (also written by Dixon), this was the only factual treatise on Shelby history at the time and the ONLY photos of a correct, original example published up until that time.
All photos in the Cyclist magazine Concours 'd Elegance series for articles that were written by Leon Dixon were taken by our good friend and noted photographer, Steve Essig (there were subsequent brand-X articles that followed and used our title, but these were neither written by us nor did we supply info for them). Although photo copyrights originally were listed in the magazine as Steve's they in fact are assigned to Leon Dixon as per agreement with Steve Essig. No part of this article or the original article may be sold, reproduced by any means or excerpted without written permission of the author.
AUTHOR'S NOTE REGARDING THE SHELBY MODEL 42 IN THE ACCOMPANYING PHOTOS.
These are the original photos and words used in the 1986 article. This particular Shelby Model 42 belongs to the NBHAA Collection. It is New Old Stock (NOS) mint original. This Shelby is pictured with original tires, grips and saddle and there are absolutely no restored or reproduction parts on this bicycle. All chrome is original. Absolutely nothing has been changed on this bicycle. Paint has not been altered nor touched up in any way. More on this in our upcoming book on classic bicycles.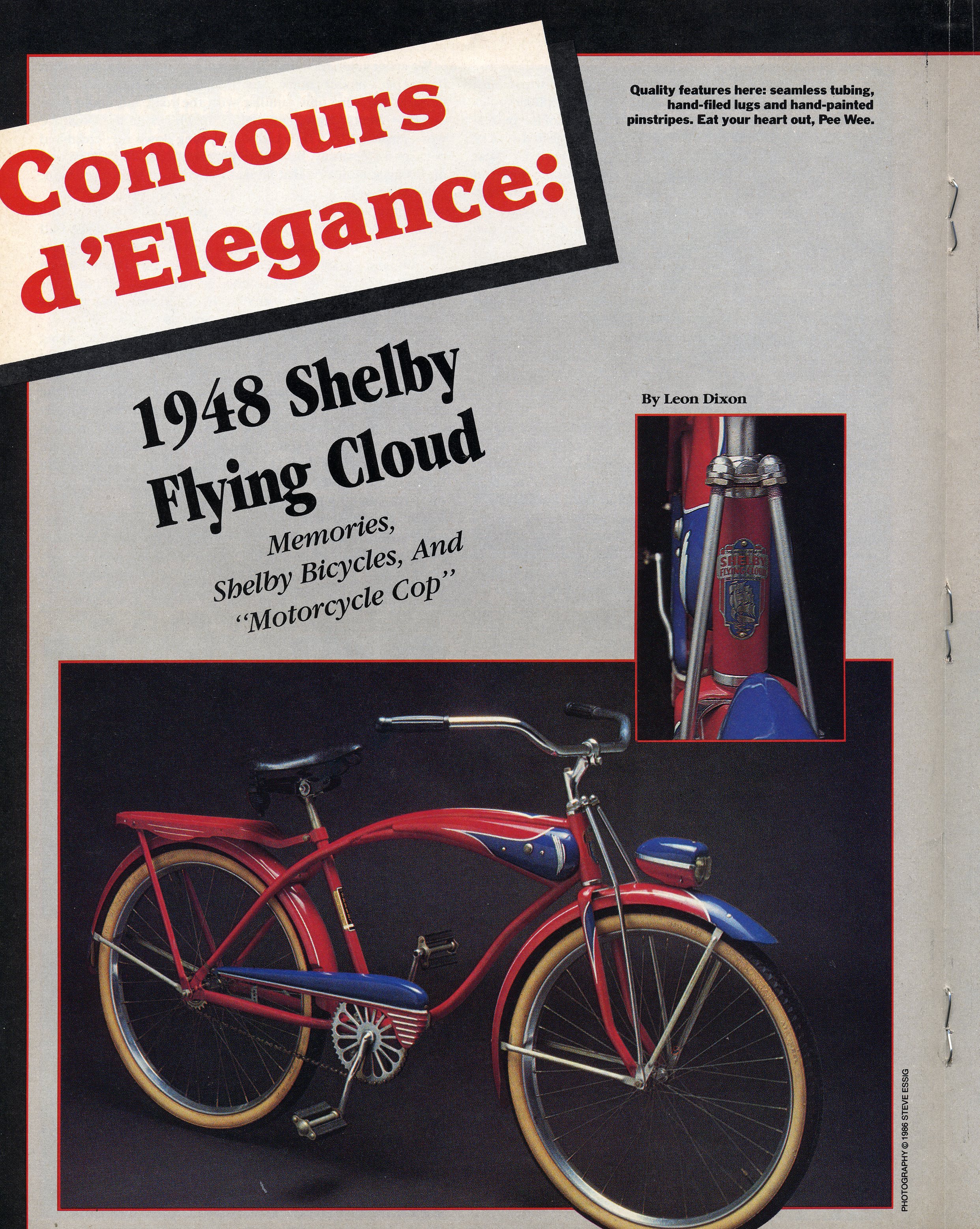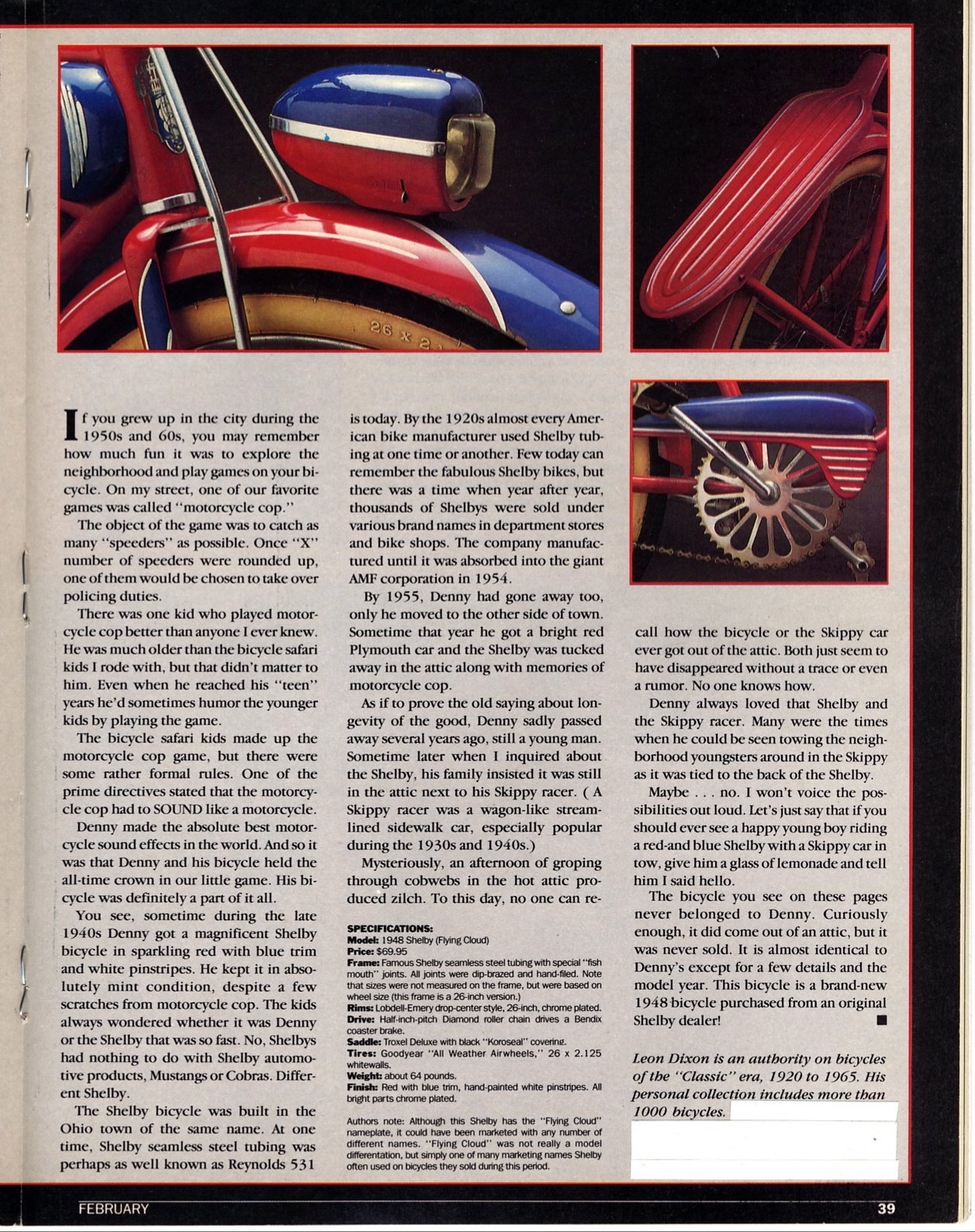 SPECIFICATIONS:
MODEL: 1948 Shelby Model 42
MANUFACTURER: Shelby Cycle Company, Shelby, Ohio (defunct).
ORIGINAL PRICE: $42.95 ($44.95 in the Western USA)
FRAME: suspension type construction hand welded and brazed utilizing Shelby's internal fish mouth reinforcements at all joints.
FINISH: Special rust preventive paint topped with hand-sprayed red enamel with dark blue trim, white hand-applied pinstripes, gold, black and white decals. All bright parts chrome plated.
WEIGHT: 64 Ibs.
DRIVETRAIN: one half inch-pitch chain drives special Bendix coaster brake hub.
PEDALS: Torrington #8
RIMS: Lobdel drop-center type, chrome plated
TIRES: Good Year All Weather Deluxe whitewall balloon, 26 x 2. 125
Leon Dixon is an authority on bicycles of the "Classic" era, 1920 to 1965... a classification which he coined, defined and copyrighted the definition (one example of which was published in November, 1979 Bicycle Dealer Showcase magazine ). He was the first to actively collect and restore these bicycles and first to write about them. His personal collection includes more than 1000 bicycles. Dixon is curator of National Bicycle History Archive of America, Box 862 Gig Harbor, WA 98335
---
QUESTIONS FOR SHELBY SHOW-OFFS OUT THERE...
1.) WHAT WAS THE FIRST SHELBY THAT WAS CALLED AIRFLO? WHEN WAS THIS MODEL MADE?
2.) WHAT SEATS WERE USED ON MOST PREWAR SHELBYS DURING THE 1930s and 1940s AND WHEN WERE THEY CHANGED TO A NEW MANUFACTURER... AND WHO WAS THE MANUFACTURER?
3.) WHAT WAS THE NUMBER OF THE STIMSONITE RED LENS IN THIS SPECIAL SHELBY FRENCHED FLUSH REAR REFLECTOR AND WHAT OTHER VEHICLES USED IT?
4.) WHAT ARE THE DIFFERENCES BETWEEN THIS 1948 MODEL 42 AND THE 1947 SHELBY MODEL 42??
5.) WHAT IS THE MODEL NAME OF THE 1948 MODEL 42 IF IT WAS EQUIPPED WITH THE SHELBY SPRING FORK??
6.) WHAT IS THE OFFICIAL NAME OF THE ORIGINAL SHELBY SPRING FRONT FORK AND WHAT YEAR DID IT FIRST APPEAR ??
7.) WHERE CAN YOU FIND MORE ORIGINAL SHELBY BICYCLE LITERATURE AND PHOTOS THAN ANYWHERE ELSE ON EARTH??
---
Thank you for visiting the NBHAA Historical articles! This section will change as time goes on, but will continuously feature rare glimpses at bicycle history, memorabilia and facts you won't find anywhere else. We will eventually be posting the entire series of CYCLIST magazine articles that were written by your curator in the 1980s. We hope you enjoy the photos and information. And stay tuned !
---

This page, all design and contents, all photos unless otherwise noted are Copyright © 1986. 1999, 2008, 2011, 2013 by Leon Dixon/NBHAA, All rights reserved.
Date of last update to this page: 20 MARCH 2013
MORE NBHAA Historical Articles
GO TO GUIDE TO CORRECTING THE CLASSICS (GTCC)

---